Source: Published by Josh November 4, 2009 in Events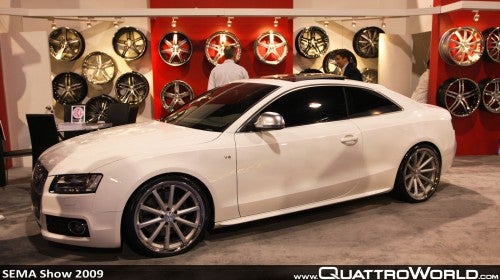 SEMA is the melting pot of the automotive aftermarket industry. It is the largest show of it's kind in the world, and brings in hundreds of thousands of people together to obsess over cars. It is quite interesting how diverse the cars and the crowd are. The recipe for this year's show is once again unique. Add in some monster truck & Jeeps, sprinkle in some murder out Bentleys and carbon fiber clad Ferraris, mix in some 15 series 24″ tires and garnish with excessive bling. And of course don't forget about a million GTRs and Camaros which are the main ingredient of SEMA 2009. The one ingredient that is unfortunately light in this year's recipe is representation of the Audi marque! Literally only a handful of Audis are at this years show (5 so far that I have found). I was hoping to see a few 2010 S4s or maybe even a V10 R8 or two but unfortunately Audis are one of the least represented brands at the show.

The Audi S5 pictured above is from Vossen wheels and features 20″ Vossen wheels, Pirelli tires, A Cargraphic exhaust and is lowered on coilovers (brand unknown).
I expected there to be a lot of R8s at the show, and perhaps some v10s but alas all we get is this blinged out black R8 from Forgiato Wheels.
Magna Flow Exhausts had a stock TT with their exhaust system installed. Very clever of them to show off the product by tilting the car up on it side.
I will follow up this post with some more detail later this evening so check back for an update!
More Pictures: http://www.quattroworld.com/events/sema-show-2009-event-coverage/#more-969